Mount Prospect Memorial Day Ceremony
Memorial Day, 29 May 2023
We thank Representative Kifowit for being our Keynote and Parade Marshall for 2023. There are so many more to thank that it's hard to put them on one page. But here find the Great work of untiring friends of veterans Photographer Mike Zarnek with a link to his photos and our Mount Prospect Digital Communication Department and Steve Martini for his editing. Download a pdf of our full program. Which list our volunteers and committee.
LOCAL VETERANS GROUPS WILL BRING PROMINENT ILLINOIS
LEGISLATOR TO MOUNT PROSPECT ON MEMORIAL DAY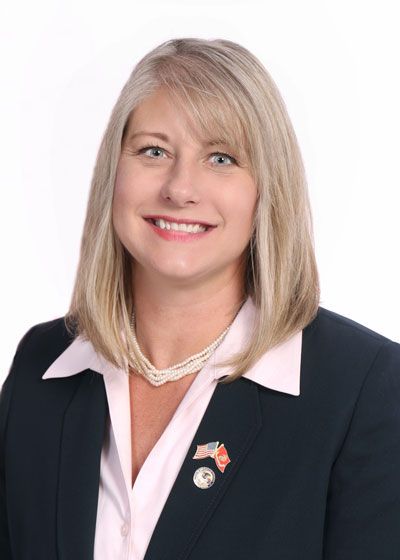 This coming Memorial Day, May 29, 2023, Mount Prospect's VFW Post 1337 and American Legion Post 525 will again sponsor Memorial Day Ceremonies at the Lions Park Veterans Memorial Band Shell. Ms. Stephanie A. Kifowit, State Representative of the 84thHouse District, will be the Keynote Speaker and Grand Marshall of the Village parade.
Ms. Kifowit proudly served her country in the United States Marine Corps. She is a current member of Aurora American Legion Post 84 and the DuPage County Marine Corps League. Ms. Kifowit was an Alderman in the City of Aurora for over nine years. Now, as a full-time State Representative, she serves the residents of Aurora, Montgomery, Naperville and Oswego. Ms. Kifowit is a current member of several House Committees including the Veterans' Affairs Committee. In that capacity she has sponsored or co-sponsored several House Bills that support veterans, many of which have been passed and signed by the Governor. They include, an important new law that makes many significant improvements to the way Veteran's Service Centers in Illinois are funded and operated. Ms. Kifowit and her husband, Steve, a US Army Veteran, have two children, Sabrina and Samuel, who is currently enlisted in the Navy and stationed in Japan aboard the USS Ralph Johnson.
Parade participants should plan to arrive at the Village Hall around 9:00am. The parade will step off between 9:30 and 9:45am and proceed South to Lincoln Street then turn right (East) to the Band Shell. Everyone is invited and encouraged to stay for the ceremony which will begin shortly after the parade concludes. It will feature, among many other things the, the Keynote address by Ms. Kifowit, the Mount Prospect Community Band, the Marching Knights of Prospect HS, Civil War reenactors with period artillery pieces, a 21-gun salute by the Mount Prospect Veterans Color Guard and, of course, it is anticipated that a great many male and female veterans will attend.
For additional information about this event, please contact Dutch DeGroot at dutch23mp@comcast.net.